What is organic farming?
Organic farming system in India is not new and is being followed from ancient time. It is a method of farming system which primarily aimed at cultivating the land and raising crops in such a way, as to keep the soil alive and in good health by use of organic wastes (crop, animal and farm wastes, aquatic wastes) and other biological materials along with beneficial microbes (biofertilizers) to release nutrients to crops for increased sustainable production in an eco friendly pollution free environment.
As per the definition of the United States Department of Agriculture (USDA) study team on organic farming "organic farming is a system which avoids or largely excludes the use of synthetic inputs (such as fertilizers, pesticides, hormones, feed additives etc) and to the maximum extent feasible rely upon crop rotations, crop residues, animal manures, off-farm organic waste, mineral grade rock additives and biological system of nutrient mobilization and plant protection".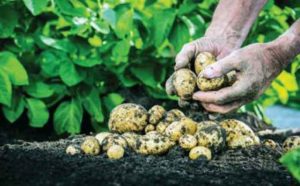 FAO suggested that "Organic agriculture is a unique production management system which promotes and enhances agro-ecosystem health, including biodiversity, biological cycles and soil biological activity, and this is accomplished by using on-farm agronomic, biological and mechanical methods in exclusion of all synthetic off-farm inputs".
Need of organic farming
With the increase in population our compulsion would be not only to stabilize agricultural production but to increase it further in sustainable manner. The scientists have realized that the 'Green Revolution' with high input use has reached a plateau and is now sustained with diminishing return of falling dividends. Thus, a natural balance needs to be maintained at all cost for existence of life and property. The obvious choice for that would be more relevant in the present era, when these agrochemicals which are produced from fossil fuel and are not renewable and are diminishing in availability. It may also cost heavily on our foreign exchange in future.
The key characteristics of organic farming include
Protecting the long term fertility of soils by maintaining organic matter levels, encouraging soil biological activity, and careful mechanical intervention
Providing crop nutrients indirectly using relatively insoluble nutrient sources which are made available to the plant by the action of soil micro-organisms
Nitrogen self-sufficiency through the use of legumes and biological nitrogen fixation, as well as effective recycling of organic materials including crop residues and livestock manures
Weed, disease and pest control relying primarily on crop rotations, natural predators, diversity, organic manuring, resistant varieties and limited (preferably minimal) thermal, biological and chemical intervention
The extensive management of livestock, paying full regard to their evolutionary adaptations, behavioural needs and animal welfare issues with respect to nutrition, housing, health, breeding and rearing
Careful attention to the impact of the farming system on the wider environment and the conservation of wildlife and natural habitats
Organic Farming Scheme in Department of Horticulture
Many corporate houses require a regular supply of organic foods and all the polyclinics in the major cities demand toxin free fruits and vegetables for inmates. The retailers of metropolitan cities and exporters of vegetable to the Middle East / Far East require small quantities of organic produce on a continuous basis throughout the year. Correspondingly substantial area in Erode, Thirunelvi, Sivagangai, Coimbatore and Madurai districts have been converted into organic horticultural production systems. APEDA has accredited Spices Board and OASIS, an NGO to certify the organic farms.
Importing regions such as the EU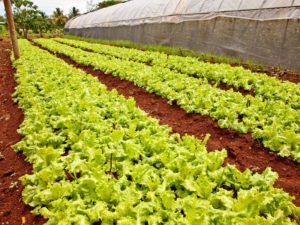 are insisting on adherence to Sanitary and Phyto Sanitary standards (SPS) and Traceability norms on the import of food products. The WTO also has developed norms for Good Agricultural Practices (GAP), Good Manufacturing Practices (GMP) in line with Europe Gap to ensure food safety. In this context, it is imperative to promote organic farming in places like Nilgiris, Sathyamangalam, Sivagangai, Tirunelveli, Theni etc., so as to enable the farmers to get certified by agencies like INDOCERT, SKAL, and IFOAM. Hence, there is a proposal to provide 1400 ha of organic gardens, 42 vermicompost units and Organic certification (cluster of 50 Ha) during 2005-06.
The organic producers are to be trained on GAP, SPS and traceability issues. Currently, there is no institutional mechanism to link the production base with the retail sector. District level collection centers and retail sales centers at Urban areas are proposed to be established under Tamil Nadu Horticultural Produces Co-operative Enterprises, primarily a farmers co-operative, so that a steady flow of organic produce is ensured between the producers and consumers. This model is proposed to be implemented in two production centers during 2005–06 and scaled up to all major horticultural clusters in the next couple of years. The total financial assistance sought in 2005-06 for all initiatives under Organic farming (all components) is Rs 157.6 Lakhs.
Vermicompost unit
Estimated value : Rs.60, 000/unit, 50% subsidy (ie) Rs.30,000/- unit
1 unit means 1000 sq metre. The yearly production should be 25 tonnes.
Scheme guidelines
In order to construct a shed of 40 x 25 ft, cement pillars should be erected at 10ft intervals. The pillars at the centre of the shed should be 16ft high while these at the edges should be 10ft. The pillars should be supported with wooden reapers and it should be laid with coconut fronds. The cost of making this 40 x 25ft shed is Rs.30, 000/-.
Constructed with the following dimensions: 2ft length, 4ft breadth & 2ft depth. The tub should be separated at 10ft intervals with a 10t high wall. Hollow bricks can be used to construct the walls, they should be plastered with cement. The base should be plastered with cement with a light slope. The cost to construct a two vermicompost tubs of size 20' x 4'x2' = 160 cubic feet. Is Rs.25,000/-
Cow dung @ 5 tonnes (Rs.400/tan) is Rs.2,000/-
Cost of earthworms & accessories is Rs.2,700/- (10 kg @ Rs.270/kg)
Cost of Azospirillum to enrich vermicompost (10 kg 2 Rs.30/kg) is Rs.300 Total Rs.60, 000/-.
18 January, Sikkim received plaudits for a great achievement – it became India's first state to go fully organic.
It took 10 years for Sikkim to convert 75,000 hectares of farmland into certified organic farms, implementing organic practices. The state now produces 800,000 tonnes of organic produce, accounting for nearly 65% of all of India's 1.24 million tonnes. In all of this, Sikkim has quietly shown that going organic doesn't mean falling productivity.
And this has earned the state applause from every corner – be it farmers on the fields or Prime Minister Narendra Modi.
"All states in the country should follow the example of Sikkim by bringing select areas under organic farming, and helping market the high-value produce," the PM said.
Modi spoke of the recently concluded climate summit in Paris, where the entire world agreed to go back to the basics. "It has been agreed by all nations that we have to change our lifestyle. We cannot exploit nature, and have to go back to basics and live in harmony. Sikkim is a model state for the world because nature is protected here, and yet, development is not compromised," he said.
While organic enthusiasts admire what the state has done right, and even talk of replicating the Sikkim model across India, Catch identifies the five ways Sikkim made organic farming work.
A vision shared by the people
It all began with a mission. Chief Minister Pawan Chamling thought simple: Sikkim was a tiny state; it needed to find a way to sustain itself without destroying its unique diverse flora, fauna, wild animal or insect habitat. It needed to create thriving livelihoods that built on eco-tourism.
In 2003, Chamling opted to take his state down the organic path. The difference being that in Sikkim, 'organic' wasn't envisioned as a niche concept meant for a few rich farmers.
Making it a mission meant teaching people that the soil had been contaminated enough, and that each one had to be responsible and stop the rot.
"It's important to demonstrate intent right from the start. Sikkim did that right in 2003 by declaring an organic policy and a plan to switch to organic farming," said Sridhar Radhakrishnan, a green activist and founder of Thanal, an NGO based in Kerala that aims to take Sikkim's success to the southern states of Tamil Nadu and Kerala.
From including the study of organic farming as a subject in the school curriculum, to initiating compulsory training on organic farming and its advantages as part of capacity building, the government has made its mission well understood among the people.
The Sikkim story is a success because the movement isn't all top down. People have embraced the ideology unanimously and participated in its success story.
Protecting a rich tradition of home-made bio fertilizers
Environment activist Kavita Kuruganti told Catch: "People think organic farming is 'do nothing' farming. The Sikkim story tells us that organic farming is about intensification and synergising all ecosystems to function at one place.
"At a farm level, what you're trying to do is balance cropping and manage the soil ecosystem. When you intensify organic farming, evidence shows that yields will go up 35 to 40%. Intensification is what is needed in cultivating the beneficial soil microorganisms and increasing the micro climate for them. Taking care of the micro climate for soil organisms helps absorb carbon in the atmosphere. You have a farm level solution to global warming right there."
When Chamling addressed the national conference on sustainable agriculture and farmers' welfare at Chintan Bhawan, Gangtok, earlier this week, he talked about his government's efforts to produce organic seed, feed and organic manure based on the indigenous traditional knowledge of the people.
Here's a sample of the diverse range of bio manure used in Sikkim, all prepared at a local level by farmers: Vermi compost, Nature Suraksha Liquid Decomposer, effective micro-organism compost, madhyam compost, Bokasi, Azola cultivation, Vermi wash, rural compost, pit compost, leaf mould, herbal compost and herbal spray for disease pest control.
Apart from this, practices like mulching, techniques like green manure, using liquid manure like cow dung and urine, or planting certain boundary trees to prevent pest attacks, are common practices in Sikkim. These are not only nature-friendly and improve soil health, but are very sustainable too.
Phasing out chemical fertilisers and subsidies on chemical inputs
In 2010, in a bold move, Sikkim phased out chemical fertilisers and subsidies on all chemical farm inputs. "You simply cannot make chemical fertilisers so readily available and expect people to make the shift to organic. This was the best thing that Sikkim did, which helped trigger the behavioural shift," said Radhakrishnan.
After constituting the Sikkim State Organic Board on 16 September 2003 for outlining policy issues and strategic plans, as well as developing standards and regulation, Chamling brought out a policy in 2004 that stopped procuring chemical fertilisers and chemical pesticides with immediate effect. It also eliminated the existing subsidy to farmers for procurement of chemical pesticide.
Kerala has followed suit. It was the first Indian state to ban EndoSulfan in 2001, and 10 years later, it banned 14 different pesticides in the most toxic red and yellow categories.
"In India, we are still using pesticides that have been banned in over 67 countries. The Centre won't bring out a policy for fear of the pesticide lobby. It also thinks these hazardous chemicals are needed for productivity. The states need to wake up to this and ban what is directly poisoning our lives," said Sridhar.
Incentives to go organic
Sikkim developed the right crop-specific incentives to hand-hold farmers into opting for organic farming. "The government started looking closely at both national and state government schemes. For each ecosystem and each crop, there are different problems that farmers face. The push to go organic means to work out schemes that cater to their needs," said Radhakrishnan.
The widespread training also assisted farmers in marketing their produce.
According to Radhakrishnan, the way to get farmers on board with organic farming is the same way the government convinced them to use chemical fertilisers in the first place. "During the green revolution, MS Swaminathan, C Subramaniam and Indira Gandhi got agri officers to carry fertilisers on their heads, to deliver personally to each farmer and coax them to use it. There is no reason we can't do the same for organic inputs," he said.
But Sikkim also realised that, at the end of the day, for a struggling farmer, there has to be an economic incentive to shift to organic. Much work was done to incentivise the shift at a farmer level and create crop specific action plans.
The push to go 100% organic and cash in on economies of scale
One way of making 'organic' cheap, say experts, is to get everybody on board.
"What happens ordinarily in organic is that a retailer deals with small quantities from a wide range of farmers. The supply chain is broken and disorganised. This adds to the cost of produce. When a state is 100% organic, then the costs that go into segregating, packaging, labelling, and differential pricing, are saved. When everything is organic, the price automatically falls," explains Kuruganti.
It has a cyclical effect, because the moment an entire region goes organic, the soil is replenished and productivity also automatically rises. "In the Sikkim story, we've seen the yield actually go up over the years" says Kuruganti.
Of course, Sikkim isn't self sufficient in all food crops: for instance, it imports some vegetables from neighbouring states, which are not organic. But for the most part, the produce is either consumed locally or packaged for high value export.
It sounds like a simple enough theory: the more states head towards organic, the more organic produce will be available for all.
But India's farm distress is only deepening each year with greater droughts, more pest attacks, rising indebtedness and farm suicides. Will going organic feed a starving farmer?
"Look at where the suicides are happening. These are all areas which are heavily chemical dependent. Almost all these farmers have been steeped in debt, in order to buy chemical inputs. Their soil has turned toxic. There can't be a clearer signal to go organic and cultivate our indigenous grain varieties, some of which have the unique property of being both drought and flood resistant. We need to relook at the mistakes we made," said Radhakrishnan.