Introduction: –
The world's best shade-grown 'mild' coffees
Indian coffee is the most extraordinary of beverages, offering intriguing subtlety and stimulating intensity. India is the only country that grows all of its coffee under shade. Typically mild and not too acidic, these coffees possess an exotic full-bodied taste and a fine aroma.
Indian coffee has a unique historic flavour too! It all began with a long, arduous journey around four hundred years ago… when the legendary saint Bababudan brought seven magical beans from distant Yemen and planted them in the Chandragiri hills of Karnataka. The sensations of aroma, flavour, body and acidity that you enjoy with each coffee experience is rooted in these mystical beginnings.
It is often said, the Indian coffee grower pours his life into the crop. Is it any wonder then that India has consistently produced and exported a remarkable variety of high-quality coffees for over one hundred and fifty years!
Growing Conditions:-
India cultivates all of its coffee under a well-defined two-tier mixed shade canopy, comprising evergreen leguminous trees. Nearly 50 different types of shade trees are found in coffee plantations. Shade trees prevent soil erosion on a sloping terrain; they enrich the soil by recycling nutrients from deeper layers, protect the coffee plant from seasonal fluctuations in temperature, and play host to diverse flora and fauna.
Coffee plantations in India are essential spice worlds too: a wide variety of spices and fruit crops like pepper, cardamom, vanilla, orange and banana grow alongside coffee plants.
India's coffee growing regions have diverse climatic conditions, which are well suited for cultivation of different varieties of coffee. Some regions with high elevations are ideally suited for growing Arabicas of mild quality while those with warm humid conditions are best suited for Robustas.
Factors Arabica Robusta:-
Soils Deep, fertile, rich in organic matter, well drained and slightly acidic (Ph6.0-6.5) Same as Arabica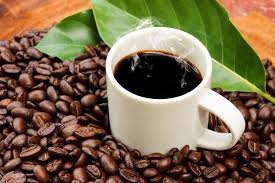 Slopes Gentle to moderate slopes Gentle slopes to fairly level fields
Elevation 1000-1500m 500-1000m
Aspect North, East and North- East aspects Same as Arabica
Temperature 150 C – 25 0 C ; cool, equable 200 C – 300 C; hot, humid
Relative humidity 70-80% 80-90%
Annual rainfall 1600-2500 mm 1000-2000 mm
Blossom showers March- April (25-40mm) February – March (25-40 mm)
Backing showers April-May (50-75 mm) well distributed March-April (50-75 mm) well distributed.
Important Varieties:-
Kents: Kents is the earliest variety of Arabica, selected by an English planter of the same name during the 1920s. This variety remained popular with the planting community till the 1940s, because it was less susceptible to rust. Today, it is grown in a few areas but it is still known for its exceptional cup quality.
S.795: This is by far the most popular Arabica selection released during the 1940s with high yields, bold beans, superior quality and relative tolerance to leaf rust. This selection was developed using 'Kents' Arabica, known for its high quality. Even today, the S.795 is a favourite with the planters and is a widely cultivated Arabica variety. S.795 has a balanced cup with subtle flavour notes of Mocca.
Cauvery: Popularly known as Catimor, Cauvery is a descendant of a cross between 'Caturra' and 'Hybrido-de-Timor'. Caturra is a natural mutant of the famous Bourbon variety. Thus, Cauvery inherited the high yielding and superior quality attributes of Caturra and the resistance of 'Hybrido-de-Timor'.
Sln.9: – Selection 9 is a derivative of a cross between an Ethiopian Arabica collection, 'Tafarikela', and 'Hybrido-de-Timor'. Sln.9 has inherited all the superior cup quality traits of Tafarikela. This variety has won the Fine Cup Award for best Arabica at the 'Flavour of India – Cupping Competition 2002' organised by Coffee Board of India.