Introduction of Bottle Gourd: – Bottle gourd is a very important vegetable crop in India and belongs to Cucurbitaceous family. The vegetable in green stage and leaves with stem are used as vegetable. The hard shell of the Bottle Gourd is used for different purpose.
Local names of Bottle Gourd: – Sorakaya/Anapakaya (Telugu), Sorekai/Chorakkai (Tamil), Chorakaa (Malayalam), Sorekai (Kannada), Ghia/Lauki (Hindi), Lau (Bengali), Dudhi (Gujarati), Pandharabhopla/Dudya Bhopal (Marathi), Zeeth (Kashmiri).
Commercial Varieties of Bottle Gourd: – Below are some of the commercial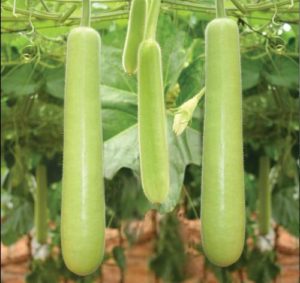 varieties of bottle gourd cultivated in India.
PKM1
Pusa Navven.
Arka Bahar.
Summer Prolific Round.
Summer prolific long.
Pusa Manjiri
Pusa Meghdoot
Climate required for bottle gourd farming: – Bottle gourd requires hot and moist climate for its cultivation. This vegetable cannot withstand frost.
Soil and its preparation i
n Bottle gourd farming: – Bottle gourd can be grown in wide range of soils. But it thrives well in Sandy loam soils. The land or main field should be prepared thorough by six to seven ploughings and ph range in soil should be from 6.5 to 7.5 in bottle gourd cultivation. This vegetable requires good drainage. Adding organic matter or farm yard manure (FMY) will make soil rich so that better yield with quality vegetable can be expected.
Time of Bottle gourd sowing and layout: – The Bottle gourd seed is sown from June to July for monsoon or rainy crops in the plains and April in the hills. January to end of February for summer crops Layout is basin and ring used.
Seed rate in Bottle gourd farming: – Normally the seed rate for bottle gourd farming is 3.5 kg to 6 kg/ha.
Seed Treatment in Bottle Gourd farming: – Bottle gourd seeds should be treated with Pseudomonas Fluorescence 10 grams or Trichoderma varied 4 grams or Carbendazim 2 g gram/kg of seeds before sowing.
Methods of sowing and spacing in Bottle gourd farming: – The vegetable seed is sown by dibbling method at spacing of 2m to 3 X 1.0m to 1.5m. Generally two to three seeds are sown in a pit at 2.5 cm to 3.0 cm depth.
Intercultural operation in Bottle gourd farming: – Two to three hoeing is given to control the weeds during the early stage of bottle gourd growth. The monsoon or rainy season crop is normally stalked, often trained on a bower made of bamboos and sticks.
Manure and fertilizers in Bottle gourd farming: – Apply 10 kg of farm yard manure (20 ton/ha), 100 grams of NPK 6:12:12 mixture / pit as basal and 10 grams of N/ pit 30 days after sowing. Application of Azospirillum and Phosphobacteria 2 kg /ha and Pseudomonas 3 kg/ ha along with farm yard manure 50 kg and neem cake of 100 Kg before last ploughing is required.
Irrigation/water supply in Bottle gourd farming: – Drip irrigation is most advantageous in the bottle gourd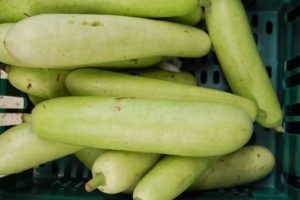 cultivation. The summer crop requires frequent watering at an interval of 3 to 4 days. The winter crop is irrigated as and when needed. Usually rainy season crop does not require irrigation.
Harvesting of Bottle Gourd: – The vegetables should be harvested when they are still green. Delay in harvesting causes the bottle gourd to become rotten or dried. Healthy bottle gourd can be kept on plant until it dries for preparing the seedling for next crop.
 Yield of Bottle Gourd: – The average yield of 100 to 120 quintal/ha can be expected.
Marketing of Bottle Gourd: – Can be transported via truck to local vegetable market.
Bottom Line: – Easy growing and low investment vegetable with high yields in short period of time.