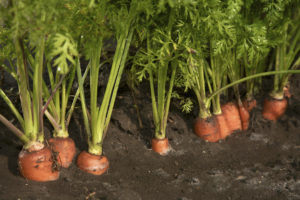 General information:-
Carrot "annual" or "biannual" herb belongs to family of Umbelliferae and it is native of "Europe". It is a great source of Vitamin A. Carrot is major vegetable crop of India. Haryana, Andhra Pradesh, Karnataka, Punjab and Uttar Pradesh are major carrot growing states.
Climate:-
Season
Temperature
7-23°C
Season
Rainfall
75-100cm
Season
Sowing Temperature
18-23°C
Season
Harvesting Temperature
20-25°C Climate
Soil:-
For good root development carrot required deep, loose loamy soils. Heavy soils as well as very loose soils are not suitable for carrot cultivation. For optimum yield pH of soil should be in range of 5.5 to 7 (pH of 6.5 is ideal for good yield).
Popular varieties with yield:-
PC 34: Red color variety having dark green leaves. Length of root is about 25 cm and root diameter is about 3.15 cm.TSS content is 8.8%. It is ready for harvesting in 90 days after sowing. Gives average yield of 204 qtl/acre.
Punjab Black beauty: Roots are purple black with dark green leaves. It is a rich source of anthocyanins and phenols which protect from cancer. TSS content is about 7.5%. It is ready for harvesting in 93 days after sowing. Gives average yield of 196 qtl/acre. Fresh carrots are used for salad, juice, pickle and Kanji.
Punjab Carrot Red: It gives an average yield of 230qtl/acre.
Other state varieties:
Exotic Varieties: 1) USA - Red cored chantenay, Danvers half long, Imperator. 2) New Zealand: Akaroa long red, spring market improved, Wanganui giant. 3)Japan: Suko 4)Belgium : Belgium white 5)Netherlands: Early Horn 6) Australia: Red elephant, western red, yellow 7) France: Chantenay, Nantes, oxheart
Pusa Kesar: Red colored carrot variety, developed at IARI, New Delhi. Ready to harvest in 90-110 days and gives average yield of 120 qtl/acre.
Pusa Meghali: Orange colored carrot variety, developed at IARI, New Delhi. Gives average yield of 100-120 qtl/acre.
New Kuroda: Hybrid suitable for plain as well as hilly areas.
Land preparation:-
Plough land thoroughly and make land weed and clods free. Add well decomposed cow dung of 10 ton/acre and mix well in soils at time of land preparation. Avoid use of undecomposed or free cow dung as it will leads to forking of fleshy roots.
Sowing:-
Time of sowing
August-September is best time for sowing local (desi) varieties of carrots whereas October-November month is ideal for European varieties.
Spacing
Use row to row spacing of 45 cm and plant to plant spacing of 7.5 cm.
Sowing Depth
For good growth, sow seeds at depth of 1.5 cm
Method of sowing
For sowing use dibbling method and also use broadcasting method.
Seed:-
Seed Rate
For sowing of one acre land seed rate of 4-5 kg is sufficient.
Seed Treatment
Before sowing soaked seeds in water for 12-24 hours. It will increased germination percentage.
Fertilizer:-
Fertilizers requirement (Kg/acre)
UREA
SSP MURIATE OF POTASH ZINC
55 75 50 #
Nutrients Value(Kg/acre)
NITROGEN PHOSPHORUS POTASH
25 12 30
Along with well decomposed cowdung, apply Nitrogen@25kg (in form of Urea@55kg), Phosphorus@12kg (in form of SSP@ 75kg/acre) and Potash@30kg (in form of MOP@50kg) per acre in soil at time of sowing. Potash is required for good development of roots.
Weed control:-
Take interculture operation like weeding and hoeing to keep check on weed growth also to provide soil aeration.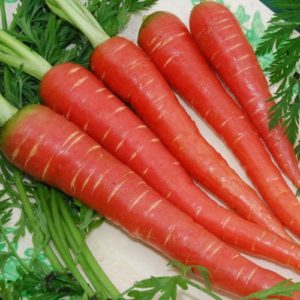 Irrigation:-
After sowing, apply first irrigation, it will help in good germination. Depending upon soil type and climate, apply remaining irrigations at interval of 6-7 days in summer and 10-12 days interval in winter month. Overall carrot required three to four irrigations. Avoid excessive irrigation as it will leads misshape of roots and numerous hair growth. Stop irrigation two to three weeks before harvesting, It will help in increase in sweetness and taste of carrot.
Plant protection:-
Nematodes
Pest and their control:-
Nematodes: To control nematodes, apply neem [email protected]/acre at time of sowing.
Disease and their control:-
Leaf spot: If infestation is observed in field to control take spray of Mancozeb@2gm/Litre of water.
Harvesting:--
Depending upon variety, carrots are ready for harvesting in 90-100 days after sowing. Harvesting is done manually by uprooting plants. After harvesting remove green tops from carrots and then they are washed with water.
Post harvest:-
After harvesting grading of carrot depending upon size is carried out. Then they are packed in gunny bags or basket.
References:-
1.Punjab Agricultural University Ludhiana
2.Department of Agriculture
3.Indian Agricultural Research Instittute, New Delhi
4.Indian Institute of Wheat and Barley Research
5.Ministry of Agriculture & Farmers Welfare