Introduction of Radish: – Radish is a popular vegetable in both tropical as well as temperate regions. Being a quick growing crop it can be easily planted as a companion crop or intercrop between the rows of the other vegetables. It can also be planted on ridges, separation one plot from another. It is cultivated all over India, especially near the city markets. Radish originated probably in China. In India, it seems to have been cultivated from ancient times. It was popular among the ancient Egyptians and Greeks.
The botanical name of radish is "Raphanus sativus". The enlarged edible roots are fusiform and differ in color from white to red. There are two distinct genetically groups in radish. The Asiatic varieties, which are primarily for tropical climates, produce edible roots in the first season and seed in the second season as a biennial crop. On the other hand, the exotic or European varieties produce roots in the plains of tropical and subtropical climate and seeds in the hills of temperate climate.
First and Foremost, you should have an idea of local varieties of radish; accordingly you start your radish farming.
Improved varieties of Radish: – A large number of varieties indigenous as well as intro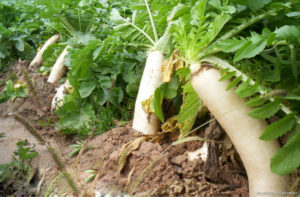 duced are cultivated in the different regions of India. The indigenous varieties are usually white with a conical shape, attaining 25-40 cm in length and are said to be more pungent than the introduce European types. European types are not very common and popular in India. Important characteristics of some of the recommended varieties are given below.
• Pusa Reshmi:– The roots are 30-45 cm long with white green tinge on top. It is suitable for early sowing during winter, but it can tolerate slightly higher temperature. Good sized roots are ready for harvesting in about 55 to 60 days.
• Pusa Desi: – It is a tropical and subtropical cultivar suitable for growing from middle of August to October in the northern plains. Roots are pure white, 30-35 cm long, tapering with green stem, pungent and heavy yielder. It matures in 50-55 days after sowing.
• Arka Nishant: – This variety has been developed at IIHR, Bangalore. It matures in 45-55 days. Roots are medium sized, marble white, crisp texture, pleasant aroma, free from early bolting, pithiness, splitting and forking. Each root weighs about 300-400 g. It is pungent and yields about 200-300 quintals of fresh per hectare.
• Pusa Hijmani: – The roots of Pusa Himani are 30-35 cm long and 10-12cm in girth with green stemend. They are scmi-stumped to tapering with short stalks. The skin is pure white and the flesh is soft and sweet flavored with mild pungency. Thought is primarily a variety for hilly region, it has been found to do well in milder climate of the plains also.
• Chinese pink: – The skin is shining red, and the flesh is white, crisp, solid and mildy pungent. The roots are 30-40 cm long with a semi-blunt end.
The top is medium. It is a good cultivar for the hills but can be grown in plains with mild climate. It requires low temperature for seed production.
• Pusa Chetki: – It has been developed at IARI, New Delhi. Roots are medium long, white, good textured, weighing 300-400g each. Since it can tolerate high temperature, it is suitable for sowing from the middle of March to middle of August. This cultivar sets seeds properly in the plains because it bolts very early in the plains during October-November. It yields about 200-250 quintals radish per hectare.
• Punjab safed: – Radish roots are white tapering, smooth, mild in taste, free of forking, 30 to 40 cm in length and 3-5cm thick. It is a quick growing type.
• Japanese White: – It has been developed at IARI, New Delhi. The roots are cylindrical, 22-25cm in length and 5 cm in diameter. The skin is snow white, flesh crisp, solid and mildly flavoured. It matures in 45 days.
It is suitable for growing between October and December in plains and during July to September in hills.
• IHR-I-I: – Roots are thin, about 30cm long, free from premature bolting, pithiness, splitting and forking. Roots are mildly pungent; each weighing about 300 gm. Root surface is smooth, shining and white. It is highly resistant to white rust and takes about 45 days to reach harvesting maturity.
• Kalyani White: – Roots are pure white with blunt end, uniform in size, 25-30cm length. It is a mildly pungent cultivar with light top. It can be grown throughout the year except a few months during the summer. It takes about 45-50 days to reach edible maturity.
• White Icicle: – It is a medium – short European variety which matures in 30 days. The skin is pure white, thin and tender, whereas the flesh is icy-white, crisp, juicy, mild and sweet flavored with just enough, pungency to appeal the appetite. The root is a solid icicles shaped straight and tapered. It has given a good harvest in the plains.
• Rapid red white Tipped: – It is an extra European type which matures in 25-30 days. The roots are smooth, small, round and bright red with white tip. Flesh is pure white, crisp and snappy.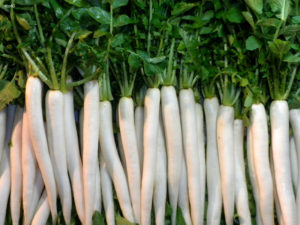 Local Indian Names for Radish: – Mooli (Hindi), Mullangi (Tamil), Mullangi (Telugu), Moolangi (Kannada)., Mula (Marathi).
Climatic condition required for Radish farming: – Usually radish is a cool season crop but the Asiatic varieties can resist more heat than the European or temperate varieties. It attains best flavor, taexture and size at 10 to 15ᵒC. Long days as well as high temperature lead to bolting without adequate root formation. During the hot weather, the root becomes tough and pungent before reaching the edible size and, therefore, crop should be harvested while young and small in size. The radish is more pungent at higher temperature. Pungency decreases with cooler temperature.
Suitable soil for radish farming: – Radish grows in any type of well drained and loose soil. Till the soil to depth of 6-8 inches to make it loose and more suitable for growing radish. Add a layer of farm yard manure (FMY) or garden compost to enrich it with organic matter. Soils with a ph range of 6.0 – 7.5 are more suitable for radish farming.
Land preparation in Radish farming: – Soils should be ploughed to a depth of 30-40cm to provide fine tilth. The soil for radish is thoroughly prepared so that there are no clods to interfere with root development. The soil should not contain any under composed organic matter because that may result into forking of roots or misshapen roots. Generally first ploughing, about 30cm deep is done with soil turning plough and remaining 5-10 ploughings are done with desi plough. Each ploughing should be followed by planking. Application of farmyard manure (FMY) should preferably be done at the time of first ploughing.