Introduction about Cucumber farming: – Cucumber belongs to Cucurbitaceous family and is an important summer vegetable crop cultivated throughout India. Cucumber plant has a climbing or trailing habit. The tender cucumber can be eaten raw or with salt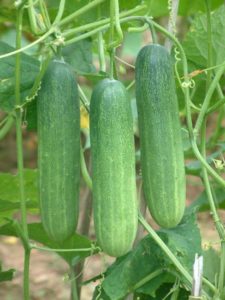 in salad. Cucumber is also used in daily cooking. Cucumber seeds can be used in oil extraction.
Indian local names for cucumber: – Kamal Kakdi (Hindi), Kakkari (Malayalam), Kakdi(Marathi) Dosakaya/keera (Telugu), Vellarikkai (Tamil).
Commercial Verities of Cucumber cultivated in India: – The following are major varieties of Cucumber commercial crops.
• Japanese long Green.
• Poinsettee
• Strainght Eight.
Climatic condition required for Cucumber farming: – The cucumber crop requires a moderate warm temperature and grows best at a temperature between 20 C and 24 C. It is not suitable for frost conditions.
Suitable soil for cucumber farming: – Cucumber can be grown in wider varieties of soils from sandy loam soils to clay soils with good drainage. Make sure the soil contains organic matter by adding organic compost or any Farm Yard Manure (FMY) for higher yield. Soil Ph should be between 5.5 and 6.7 is favorable for optimum growth.
Soil preparation in Cucumber farming: – The main field should be prepared thoroughly sowing of seeds. Plough the land around four times and form long channels at 1.5 meter apart.
Best season, seed rate and seed treatment in Cucumber farming: – Sow the cucumber seeds during June or January to April. About 3kg of cucumber seeds are required for a hectare. Treat the cucumber seeds with Pseudomonas flvorescens 10 grams/kg or Trichoderma viride 4 grams/kg or Carbendazim 2 grams/kg of seeds before sowing.
Sowing method in Cucumber farming: – The cucumber seed is sown by method of dibbling at a distance of 1.5m to 2.56m (Row to row) X 60cm to 90cm (Plant Spacing). Two to three cucumber seeds are sown in each pit. Layout in ring & ring basing method is preferred.
Manure and Fertilizers in Cucumber farming: – 40 to 50 cartload well decomposed Farm Yard Manure (FYM) should be added at the time of soil preparation, 25 kg P/ha 50 kg N, should be given ½ N and full phosphorus should e given at the time of sowing cucumber seeds and remaining half N should be given 30 days after sowing of seeds.
Irrigation in cucumber farming: – Drip Irrigation is most effective method for cucumber farming. Install drip system with main and sub main pipes and place the inline lateral tubes at an interval of 1.5 meter. Place the drippers in lateral tubers at an interval of 60 cm and 50cm spacing with 4 Ph and 3.5 LPH capacities respectively. For summer crop irrigation should be given to maintain moisture and for rainy season crop irrigation is needed.
Weed control operation in cucumber farming: – Shallow cultivation can be given during the early stages of cucumber plant growth to control the weeds. Herbicides may be used for controlling the weeds.
Pests and diseases in cucumber farming: – The main disease in cucumber farming is Downy mildew and it can be controlled by applying Mancozeb or Chorothalonil 2 g/lit twice at 12 days interval main pest is fruit fly and it can be controlled by: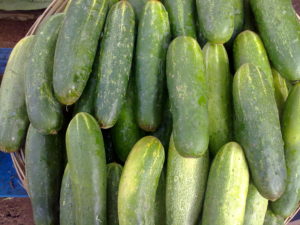 1. Picking the affected cucumbers and destroy them.
2. Neem oil @ 3.05% as foliar application as need based.
Harvesting and yield of cucumber: – Harvesting can be done @ 40 to 45 days after sowing. On an average of 8 to 10 harvests can be done. Timely picking of cucumber is more important for better quality for fruit. Yield 8 to 10 t/ha in 80 to 90 days for salad and the average yield is about 60 to 105 quintals/ha.
Marketing of cucumbers: – As it has good demand in local markets, can be transported via trucks.
Bottom line: – Healthy vegetable makes you wealthy with good yield.