Introduction of Jowar or Sorghum: – Jowar is one of the important food and fodder cereal cultivated across India, Sorghum popularly known as " Jowar" in India. The advantage of this cereal crop is that it can be cultivated in both kharif and Rabi season. Jowar is the 5th most important cereal crop in the world after rice, wheat, maize & barley. The nutritional value of sorghum is same as of that of corn and that is why it is gaining importance as livestock feed. Sorghum or jowar is also used for ethanol production, producing grain alcohol, starch production, production of adhesives and paper other than being used as food and feed for livestock. Jowar or sorghum cultivation is gaining popularity due to its nature of extreme drought tolerance. Sorghum is very nutritious just like corn and can be used as green fodder, dry fodder, hay or silage.
Health benefits of jowar: – Below given are some of the health bnefits of jowar.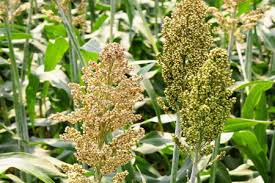 Sorghum/jowar has packed with calcium, iron, potassium, phosphorous, protein and fibre.
It provides good antioxidants.
It contains B-vitamins like thiamin and riboflavin.
Sorghum/jowar is also known to be heart healthy and 'Jowar Roti' is widely used in India for its health benefits.
Jowar helps in weight loss.
Major sorghum or jowar production states in India: – Major jowar producing states in India are given below.
Maharashtrea, Karnataka, Madhya Pradesh, Andhra Pradesh, Telangana, Tamil Nadu, Gujarat, UP, Rajasthan, Haryana.
Local names of jowar in India: – Great Millet/Sorghum (English), Juar (Bengali, Gujarati, Hindi), Jwari (Marathi), Jola (Kannada), Jonnalu (Telugu), Cholam (Tamil, Malayalam), Janha (Oriya).
| | | | |
| --- | --- | --- | --- |
| Year | Area (Million Hectares) | Production (Million Tonnes) | Yield (Kg./Hectare) |
| 2001-02 | 9.8 | 7.56 | 771 |
| 2002-03 | 9.3 | 7.01 | 754 |
| 2003-04 | 9.33 | 6.68 | 716 |
| 2004-05 | 9.09 | 7.24 | 797 |
| 2005-06 | 8.67 | 7.63 | 880 |
| 2006-07 | 8.47 | 7.15 | 844 |
| 2007-08 | 7.76 | 7.93 | 1021 |
| 2008-09 | 7.53 | 7.25 | 962 |
| 2009-10 | 7.79 | 6.7 | 860 |
| 2010-11 | 7.38 | 7 | 949 |
| 2011-12 | 6.25 | 5.98 | 957 |
| 2012-13 | 6.18 | 5.33 | 862 |