Introduction of Pear Fruit: – Pear is one of the important fruit crops next to apple and it is native to coastal & mildly temperate regions of the world. Pear fruit belongs to "Rosaceous" family and genus of "Pyres". This fruit can be grown in temperate and subtropical regions. Pear has wider soil and climatic adaptability. The pear tree is a medium sized tree and grows about 10 to 16 meters tall. In India, this fruit is primarily grown in Jammu and Kashmir, Uttar Pradesh and Himachal Pradesh at 2000 to 2400 meters above mean sea level (M.S.L). Low chilling varieties have been adapted to subtropical regions of India.
Health Benefits of Pear Fruit: – Following are some of the health benefits of Pear fruit.
• Pear helps in controlling blood pressure.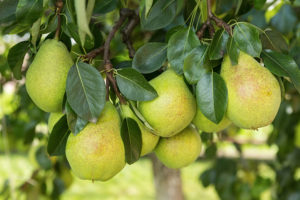 • Pear helps in preventing cancer.
• Pear helps in lowering cholesterol.
• Pear is good for colon health.
• Pear helps in constipation.
• Pears are good source of energy.
• Pear helps in relieving fever.
• Pear is a immune booster.
• Pear helps in reducing inflammation.
• Pear helps in preventing osteoporosis.
• Pear is an excellent source of fiber.
Local names for Pear Fruit in India: – Pear (English), Nashpati (Hindi, Marathi), Perikai (Tamil), Berikkai (Kannada), Sabariil (Malayalam), Berikkai (Telugu).
Hybrid Varieties of Pear fruit in India: – The pears mainly divided into 3 groups. There below are the 3 types varieties of pears cultivated.
Recommended varieties for high hilly regions are:
• Early season: Laxton's Superb, Seckel, Fertility (P) & Early China.
• Mid Season: Max-Red Barlett, Dr Jule's Guyot, starking delicious & barlett.
• Late ripening: Flemish Beauty (P), Conference (P), Comice, Winter Nellis, Clapp's, Hardy & Favorite.
Recommended varieties for mid, low hills and valley regions (Himachal Regions) are: China Pear, Keiffer (P) and Patharnakh (Sand Pear).
Recommended varieties for temperate areas (Jammu and Kashmir):
• Early season: China pear, Beurre-de-Amanlis.
• Mid Season: William Bartlett, China Sand Pear, Favorite, Doyenne Bussoch, Genta Drauard Fertility & Citron-do-Carme, Clapp's.
• Late ripening: Viear of Winfield and Hardy.
High Hills region of Uttar Pradesh: Hardy, Clapp's Favorite, Winter Nails, Conference, William Bartlett, Comic and Flemish Beauty.
Lower hills and plains regions of Uttar Pradesh: Lecanto, Goal Patharnakh. Recently, baby shaped pear cultivation is picking up in China.
Climate Required for Pear fruit Farming: – Pear fruit adopts wide climatic conditions, this tolerates as low as 27ᵒC and as high as 47ᵒC. The chilling period varies for each variety of pears grown. The spring frost damages the flowering so the lowlands should be avoided for its farming. The hail prone regions should be avoided as it affects both plants and fruits.
Soil Requirement in Pear Fruit farming: – Pear fruit thrives best in well drained, deep and rich soils with medium texture. It prefers relatively more clay soil for better growth and yield. This crop can tolerate to wet soils but not drought conditions. The optimum soil depth of 170to 180cm is preferred for good root growth and fruit production. Pears grown on deeper soils produce more yield than shallow soils. This crop requires neutral ph of 505 to 705 due to iron deficiency appears on highly alkaline soils. The soils rich in nitrogen are not preferred for pear crop cultivation because of pear psylla and fire blight presence in these soils.
Planting Season in Pear Fruit farming: – December to mid February for plains and early spring for hilly regions is the best period for planting pear.
Land Preparation and Planting in Pear fruit Farming: Land should be clear of all weeds and any other old stems and roots of previously grown plants. Couple of ploughs is enough to bring the soil to fine filth. The land should be leveled in such a way that there should not be any water stagnation. Usually layout system depends on the land topography and density of plants. In general, square and rectangular system is followed. However, contour system is followed on hilly areas. In pear fruit farming, planting distance depends on variety, soil fertility, rootstock, training system adopted and climatic condition of the area. A pit size of 1 x 1 x 1 meter should be dug. These pits should e filled with a mixture of soil and well rotten farmyard manure (FMY) or organic compost & 25 grams of andiron BHC dust. Basins should be prepared immediately after planting. The soil level should be little higher near the trunk than the basin to avoid the direct contact of water with the trunk. To keep the tree stems straight, the plants should be staked. Remove any sprouts on root suckers and rootstock. Watering should e done immediately to settle the soil.
Propagation in Pear fruit farming: – Propagation in pear fruit farming is done through seeds, own rooted cuttings, raising rootstock, budding & grafting, colonel rootstock.

Training and pruning in Pear fruit farming: – To spread the fruit growth uniformly and to maintain vigor growth, proper training & pruning should be carried in pear fruit farming. Central Leader Training system is adopted in pears crop. In this method, 4 or 5 well spaced limbs should be developed during initial 3 to 4 years stage and then the leader should be headed off. In pruning process, certain amount of thinning out and heading back of outward growing laterals are considered adequate. The training and pruning is almost same both in Pear & Apple.
Manures and Fertilizers in Pear Fruit Farming: – Generally the 10 years old pear plant requires about 80 to 90kg of well rotten FMY, 650 to 700 grams of N, 300 to 350 grams of P205 & 650 to 700 grams of K20. The full dose of P & K should be applied along with farm yard manure. In case of Nitrogen application, ½ dose of N should be applied 21 days before flowering stage and the remaining half dose can be applied after fruit set. If the soil is deficient in zinc and iron, appropriate zinc sulphate & ferrous sulphate should be applied. This can be done while preparing the soil or land.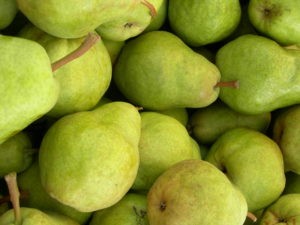 Irrigation in Pear Fruit farming: – Pits should be irrigated first to settle the soil. Watering should be done immediately after planting. Next irrigation should be given after 2 to 3 days of panting. Subsequent irrigations should be carried on need basis. In heaver soils having high moisture content upper 1 meter level are very crucial for tree growth and fruit development. In case of lighter soils, irrigation may be required frequently. In case of loamy soils, moisture should be present @ 1.5 meter depth for better yield. In case of heavy rains, water should not be stagnated and well drained out. Excessive moisture will impact the fruit color and quality. Frequency of irrigation depends mainly on soil moisture holding capacity. After harvesting the Pears in July-August, the trees should be irrigated at 3 weeks intervals. Drip irrigation can be used in water problematic areas.
Intercropping in Pear fruit farming: – Inter cropping is the best way to make some additional income during 1 to 2 years of plantation. Inter crops like wheat, green gram; peas, toria and sunflower are best suited. If inter crops are considered, additional fertilizers may be requires for those crops.
Weed control in Pear fruit farming: – In pear cultivation, weeds can be controlled either by hoeing, mechanically or by using herbicides.
As pre emergence, Hexuron 80wp (Diuron) @ 4 grams per hectare should be applied in the first 2 weeks of March month. For post-emergence, when weeds are about 15cm height, Grammazone 24 WSC (Paraquat) @ 3 liters per hectare/200 liters of water should be applied.
Pests and Diseases in Pear Fruit farming: – Fire blight, Blast, Crown root rot, Spring pear cankerworm, Pear decline, Scab, Armillary root rot, Codling moth, Leaf rollers and Pear psylla are the common pests and diseases found in pear fruit cultivation. For control measures, contact nearest local horticulture/agriculture department.
Harvesting and Packing in Pear fruit farming: – Harvesting of pears can be carried out when fruits are fully matured for fresh consumption. In case of export or long distance markets or canning purposes, they can be harvested when they area firm and green. Grading should be done based on the fruit size and quality by exclude any damaged fruits. Packing can be done in layers in wooden, plastic or cardboard boxes.