Orange Farming Information Guide:-
Little about of Oranges: – Mandarin orange (Citrus reticulate) is most common among citrus fruits grown in India. It occupies nearly 40% of the total area under citrus cultivation in India. The most important commercial citrus species in India are the mandarin (Citrus reticulate), sweet orange (Citrus sinensis) and acid lime (Citrus Aurantifolia) sharing 41, 23 and 23% respectively of all citrus fruits produced in the country.
Orange are mostly grown in the states of Maharashtra, Madhya Pradesh, Tamil Nadu, Assam, Orissa, West Bengal, Rajasthan, Nagaland, Mizoram, Arunachal Pradesh. Orange is rich in vitamin C, A, B and phosphorus, orange is consumed fresh or in the form of juice, jam, squash and syrup. It is the main source of peel oil, Citric acid and cosmetics which have international market value.
Nagpur mandarin is one of the best mandarins in the world. Production of this fruit crop in central and western part of Indian is increasing every year. Mrig crop (monsoon blossom) which matures in February-March has great potential for export since arrivals of mandarin fruit in international market are very less during this period. Selection of desired quality fruit as per specific market demand and careful post-harvest handling to retain most of natural qualities and freshness plays a key role in expanding exports of Nagpur mandarin (Santra).
Climatic requirements for Orange Farming: – Mandarins grow successfully in all frost free tropical and sub-tropical regions upto 1,500m above m.s.l, an annual rainfall of 100-120cm and temperature ranging from 10ᵒ-35ᵒ C is suitable for cultivation of the crop.
Suitable soil for orange Farming: – Mandarins are grown in a wide range of soils ranging from sandy loam or alluvial soils of north India to clay loam or deep clay loam or lateritic/acidic soils in the Deccan plateau and north-eastern hills. Citrus orchards flourish well in light soils with good drainage properties. Deep soils with ph range of 5.5 to 7.5 are considered ideal. However, they can also be grown in a ph range of 4.0 to 9.0. High calcium carbonate concentration in feeder root zone may adversely affect the growth. It is advised that soils test should be done before getting into orange farming.
Growing and Potential belts of oranges: – Nagpur santra (mandar in) is chiefly grown in Satpura hills (Vidharba region) of Central India, hilly slopes of Darjeeling (West Bengal) and Coorg (Karnataka). In South India, Wynad, Nilgiri, Palney and Shevrog hills are the major mandarin growing belts while hills of Meghalay (Khasi, Dusha, Garo, Jaijntia), Mizoram, Tripura, Sikkim and Arunanchal Pradesh have Predominance in mandarins. In Assam, Brahmaputra valley and Dibrugarh districts are famous for mandarin production.
Orange Varieties Cultivated: – Important mandarin orange varieties cultivated in India leveled. In hilly areas, planting is done on terraces against the slopes and on such lands, high density planting is possible as more aerial space is available than in flat lands. Since citrus trees are highly sensitive to water logging and water stagnation during rainy season providing drainage channels of 3-4 feet depth along the slopes around the orchard is essential.
Planting Material and Planting season for orange farming: – Mandarin orange is propagated by seeds and also vegetatively propagated by T-budding. Seedlings are mostly transplanted in the month of July-August after commencement of monsoon. Budding should preferably be done in last week of January or first week of February following the 'T' or shields budding method.
Plant spacing in Orange farming: – Mandarins are usually planted in pits of 50cm X 50cm X 50cm size in a square system with a spacing of 4.5-6M, accommodating 350-450 Plants/ha. In north-eastern parts of India, Khasi mandarins are very closely spaced (4.5m X 4.5m), accommodating more than 500 plants/ha. However, a spacing of 6m X 6m accommodating 120 Plants/acre has been considered for the present model.
Irrigation/Water supply in Orange farming: – Requires critical stage watering in the initial year. It further reduces fruit drop and increases the fruit size. Diseases like root rot and collar rot occur in flooded conditions. Light irrigation with high frequency is beneficial. Irrigation water containing more than 1000ppm salts is injurious. Quantity of water and frequency of irrigation depends on the soil texture and growth stage. Micro irrigation systems not only save water and nutrients but also ensure good retention of fruits during crucial stages of crop growth in March-April even in situations where water is not a limitation. Water requirement of citrus trees is generally higher than most of the other sub-tropical fruits due to recurrent growth and development. The water requirement varies from 900 to 100mm per year depending upon the location. Water requirement of young (1-4 years old), middle (5-8 years old) and mature (9 and more) Nagpur mandarin trees varies from 5 to 15 litres/day, 35 to 105 litres/day and 60 to 170 litres/day respectively.
Nutrition in Orange farming:-
The recommended fertilizer dose in terms of N, P & K is given in the following table:
Age of the plant Year-wise fertilizer applied (g./plant)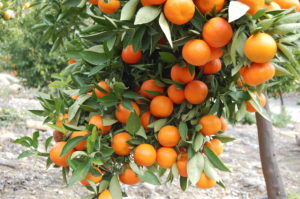 N P K
1 150 50 25
2 300 100 50
3 450 150 75
4 & Above 600 200 100
About one third of the recommended dose of nitrogen should be applied through organic manures like FYM, Cakes etc. In case of non-bearing tress, nitrogen should be applied in split does during April, August and November; phosphorus in August and November and potassium in November. Nitrogen should be applied in three split doses in case of bearing trees during April, August and November along with 200g phosphorus in two split doses in August and November and 100g potassium in November for mandarin grown in black clay soil.
Micronutrients in Orange farming: – Micro-nutrients viz. zinc, copper, manganese, iron, boron and molybdenum are required in sample quantities. Improper supply of nutrients may cause serious disorders which may lead to decline of the whole orchard. The micro- nutrients should be supplied through foliar spraying.
Inter culture activity in Orange Farming: – Ploughing, spading of basins, weed control, etc. are important inter-culture operations for soil aeration and health. Chemical control of weeds with pre-emergence weedicides like diuron (3kg/ha), simazine (4kg/ha), glyphosate 4 l/ha, pataquat (2 l/ha) etc. may also be adopted.
Inter cultivation in Orange Farming: – Leguminous crops like soybean, gram, groundnut, cow peas, French bean, peas etc. may be grown in citrus orchards. Intercropping is advisable during the initial three-four years after planting.
Training and Pruning in Orange farming: – In order to allow the growth of a strong trunk, initially shoots upto 40-50cm from the ground level should be removed. The centre of the plant should remain open. Branches should be well distributed to all sides. Cross twigs and water suckers are to be removed early. The bearing trees require little or no pruning. All diseased, injured and drooping branches and dead wood are to be removed periodically.
Insect Pests in Orange Farming: – Revitalization of plants due to poor fruit set, fruit drop both at bearing and maturity stage, stem tunneling, bark removal, fly, citrus leaf miner, bark eating caterpillar, mealy bugs, citrus aphids, citrus thirps, fruit fly, mites etc. results in poor performance by the tree in terms of quality fruit production. Spraying with insecticides viz. monocrotophos, phosalone, dimethoate, phosphamidon, quinlbphos etc. depending upon the type of pest infestation has been found to be effective in most cases.
Diseases in Orange Farming: – The main diseases reported are twig blight, gummosis, damping off, root and collar rot. The affected plants should be sprayed with Ridomil MZ 72, Bavistin, Benomyl etc. depending on the type of infection.
Mulching in Orange farming: – Application of dry leaf mulch or paddy husk to a thickness of about 8cm in the basin keeps down the weed growth and decreases the number of irrigations and also improves fruit quality.
Harvesting of Orange: – There are two main crops in mandarins and sweet oranges. One is called as Ambiabahar (mango flowering) the flowering of which occurs in the month of January (at the time of flowering of mango hence the name Ambia) the fruits of which are available in the months in the months of October-December. The other crop is Mrigbahar (Monsoon bloom) the flowering of which occurs in the month of June-July and the fruits are harvested during February-April. Mandarins and sweet oranges normally take 240-280 days to arrive at maturity. Mature fruits at color break stage are picked up in 2-3 intervals of 10-15 days.