Introduction about Rose farming: – Selection of right variety of Rose is an important factor in commercial Rose farming. Production of quality Roses are important to win I international flower market. Roses have various uses depending on the species and varieties. They may be used as garden plants and cut flowers. They can also be used in making rose water, rose oil and gulkand. Rose cut flowers have an important role in preparation of floral arrangements, bouquets, in worship, presentation of gifts and in social occasion. In the international trade market, cut roses first in popularity. In India, the major rose flower cultivating states are Maharashtra, Tamil Nadu, Karnataka, and West Bengal.
There are many varieties of the Indian Roses cultivated throughout India which includes pink rose, white rose, maroon rose, red rose, yellow rose and orange rose.
Commercial Verities of Roses cultivated in India: – The following are major types of commercial crop roses.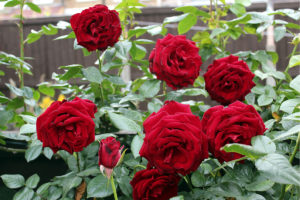 Floribunda:

– These Roses have small flowers (2.5 cm) and shorter stems (less than 60 cm), but yielding is much higher than other types. Examples of this type are KISS, FLORENCE, FRISCO, MERCEDES and JAGUAR.

Hybrid Tea:

– These Roses have large flowers (4cm) long stems (125cm). Yield varies from 100-200 stems per sqm. Hybrid Teas fetch higher profits than other types. Some other known varieties of this group are MELODY, DARLING, SONIA, VIVALDI, TINEKE and ONLY LOVE.

Spray:

– A single stem of these type roses may carry 5-6 flowers, but stem yielding per sqm is very low. Important varieties belonging to the type are NIKITA, EVELIEN and JOY.
Other commonly cultivated Rose is Baby Pink, Sofia Lawrence, Gladiator, YCD1, YCD2, and YCD3.
Climate condition required for Rose farming: – More sun light, humid and moderate temperature ranging from 15ᵒ C to 28ᵒ C considered as ideal conditions for rose cultivation in the tropical and subtropical climatic condition of India. At temperature below 15ᵒ C roses may be grown, but the gap between flushes become longer. At higher temperature, say above 30ᵒ C, roses can be cultivated provided high humidity is maintained and evaporation is slowed down.
Suitable Soil and its Preparation in Rose farming: – Roses prefer well drained soil that is rich in organic matter and oxygen. Farm Yard Manure can be added to make the soil rich in compost. Many growers prefer organic matter as high as 30 per cent in the top 30cm of the growing beds. Roses can be grown well in the soil of PH range of 6 to 6.5. Soil loosening on beds is required after 4 to 6 months or so, there is a chance that the soil become hard and it has to be loosened for efficient irrigation so the flower yield be high.
Cultivation/Propagation methods in Rose farming: – Rose plants are mainly propagated by the seeds, layers, by budding and cutting. Budding is considered to be one of the best methods for propagating rose plants. They can be planted in the circular pits about 60 to 90 cm across and 60 to 75 cm deep. Removing all the broken and bruised leaves while planting is important in the rose farming. Roses require at least eight hours of direct sunlight for the growth. The best season to plant the Rose is between Septembers to October. The rose plant needs trimming/cutting from time to time. It requires Organic matter which include Farm Yard Manure (FMY) and some fertilizers at the time of planting.
Water Supply in Rose farming: – The rose plants should be irrigated daily until they establish properly and thereafter once in a week. Pruning in rose garden is done during March and October.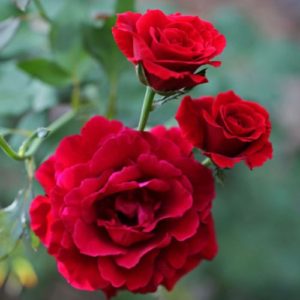 Defoliation and Manure in Rose farming: – To induce certain plant species to flower or to reduce transpiration loss during periods of stress, removal of leaves is needed (defoliation). As manure is concerned. Three to four months interval, apply farm yard manure (FMY) at 12 kg NPK/plant after each pruning.
Harvesting in Rose Garden: – Harvesting is done with sharp object secateurs at the stage of tight bud when the color is fully established and the petals have not yet started unfolding. There should be 1 to 2 mature leaves those with five leaflets left on the plant after the flower has been cut. Leaving these matures leaves will increase the production of new strong shoots. Harvesting is preferred in early morning hours.
Yield of Roses: – The hybrid roses can yield around 80 to 90 stems/plant/year.
Bottom line: – If you farm produces quality flowers, there will be huge profit.